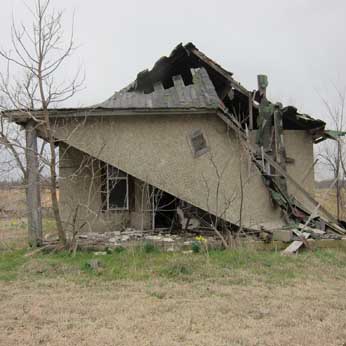 You might have inherited a property, be a landlord  who can't let at a rate that pays your bills, or have a property that needs repairs or works. It might be a long way from where you live or there may some legal or regulatory complications. It may be a house, flat, or even an old industrial or agricultural building.
Talk to us – we are specialists and can help in all kinds of ways.
If it's as bad as the one in the picture, then have a chat with our development team.  You might decide to cash in, in which case our knowledge and expertise can often mean you can realise more than the current market value. Or we can  work together with you on a more complex and longer-term project to increase the value before sale, perhaps by progressing development of the site.
On the other hand, if you are a landlord with an empty or hard-to-rent BTL property, we have a host of support options.
If you just need a little help, we can advise on or organise landlord regulatory fire/safety/tenancy compliance, repairs or refurbishment to get the tenants and peace of mind you want.
If you don't have the funds to improve the condition of your property to attract good tenants, or if you aren't achieving a profitable return, we can offer a scheme where you pass management and control to our highly experienced landlords in return for a guaranteed rent with no agency charges or voids. In some cases, costs of any necessary repairs or works can be shared, or even paid in total. This arrangement means you are entirely  hands-off with complete certainty regarding incomings and outgoings.
Or, if you want out completely,  or the regulatory and forthcoming Government tax changes have left you feeling that it just isn't worth it, we have several approaches, even if you have negative equity. For instance, we can give you  immediate freedom to walk away from your Buy to Let property and its financial costs.  Sometimes, a cash payment can be made upfront to help with urgent bills or debts, or we will make and pay for required or regulatory improvements to the property.
If you'd like to know more, get in touch for a chat